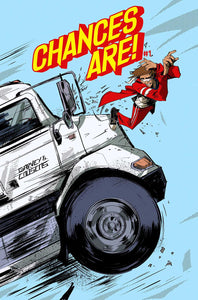 Matt Garvey Comics
CHANCES ARE #1
Regular price
$6.00
$0.00
Unit price
per
Tax included.
Shipping
calculated at checkout.
This is a physical copy of the independent, Action Comic, CHANCES ARE #1
Series Synopsis:
Bruce Gray is one of the luckiest guys alive. Seriously, everything he touches turns to gold. But when he gets on the wrong side of the WORST people, he's forced to play a dangerous game where the stakes are literally life and death. Can his luck hold out long enough for him to survive? Chances are is a thrilling ride from start to finish that will have you on the edge of your seat! With non-stop action, suspense and humour, this is one book you won't be able to put down! You won't be disappointed!
Genre: Action, Comedy, Thriller
Please be aware that this comic is not suitable for children.
Credits:
Written by Matt Garvey
Cover & Interior Art by David Cousens
Who is this Comic recommended for?
This series is for anyone who loves action, and comedy!
Comic Details:
Type of Comic: Miniseries
Colour/ Black & White: Colour
Length: 24 pages
Cover printed on 170 gsm paper
Interior pages printed on 150 gsm paper
Comic Size: US Standard comic size
**Also, please be aware that if you are placing a comic order along with other Apparel or Merch orders, comic items will be shipped to you separately.**
---